34 Trendy Tomboy Pixie Haircut
Hairstyles have one thing going for them—there is something for everyone. When it comes to hair style or getting a haircut, nobody will be left out.
If a person wants a certain hairstyle but it doesn't yet exist, they can be the first to wear it and it will soon become popular. There are ideal hairstyles for every lady who prefers a more tomboy appearance rather than a more girlish one. There are many various types of tomboy short haircuts, and they are all lovely and attractive.
One thing sticks out among all the distinctions; they give you character and make you distinct. You may get some of the greatest short haircuts for your ideal tomboy style in this post. You can try them and you will be glad you did. These hairstyles are perfect for all kinds of people.
1.Short Hairstyle with Bangs
This hairstyle is chic, gorgeous and perfect for round faces. The length of the pixie cut is perfect. When brushed, it falls right above your neck. But the hair at the top of the head is longer than the rest.
It forms perfect bangs and they fall wonderfully over your forehead and to the side. The length almost covers your eye and this makes the haircut look very sexy.
Use the right hairspray to get the volume then brush the sides to the back and brush the fringe as indicated. This tomboy haircut has a professional look to it and it will work for all functions.
2.Tomboy Messy Hairstyle
This dark brown tomboy haircut is bold and beautiful. In case you have a deep and dark personality, or you want to portray this, the hairstyle will work excellently.
Being a messy look, it gives a perfect vibe of a carefree spirit and an easy-going person. It is edgy and rough and it has its degree of attractiveness.
This haircut will work excellently with thick hair and you can also include some highlights to make it more interesting. Caramel highlights can go a long way. It is attractive how the hair falls on the side.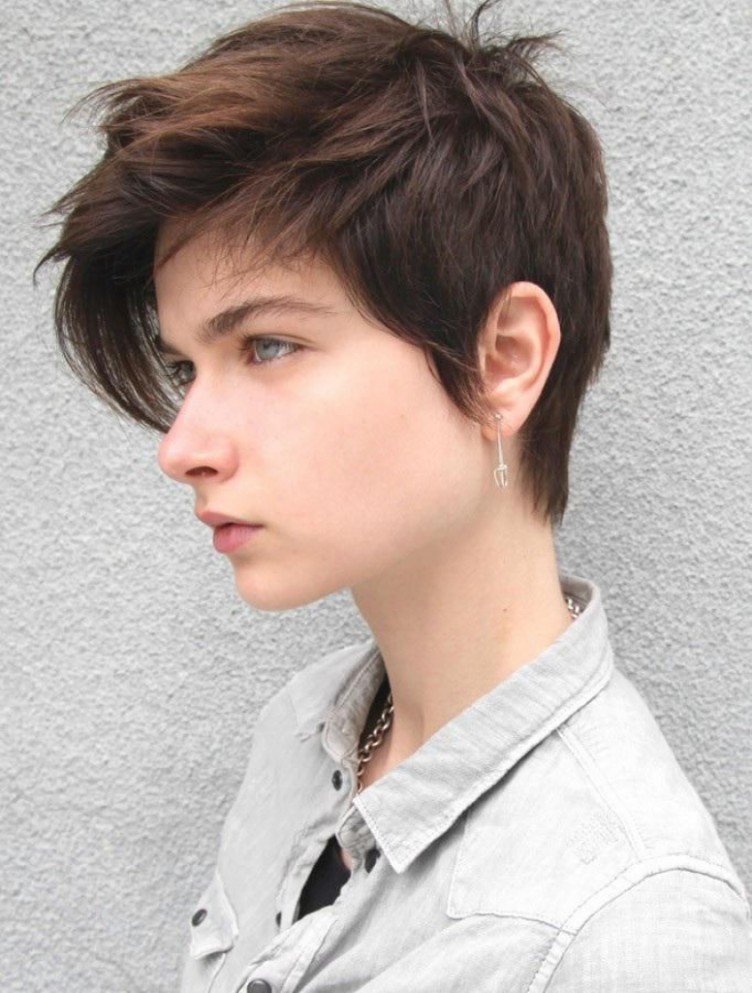 3.Tomboy Bowl Cut Hairstyle
This hairdo attracts people's attention very easily and quickly. It is unique and interesting. The bowl cut has been around for a long time and its semblance to a 'bowl' is what brought about the name.
The fringe is straight and has a perfect length that falls over the forehead leaving a good distance from the eyebrows. The sides and the back of the head are shaved.
The dark roots and the blonde highlights are perfect. From this haircut, you can create many other looks basing on how you will style the hair in the morning. This look is perfect for straight hair.
4.Tomboy Pompadour Hairstyle
The pompadour started with women and it only gets better by the day. Although it is an old hairstyle, every time you see it, you will think it is a hairstyle that has been invented a few years back.
The hairstyle keeps varying in its presentation and this look features some of the excellently done pompadour hairstyles of all time. The short sides and back are what give the look a masculine touch.
The pomp at the top of the head is exquisite and gorgeous. The dark roots and blonde highlights are a perfect combination.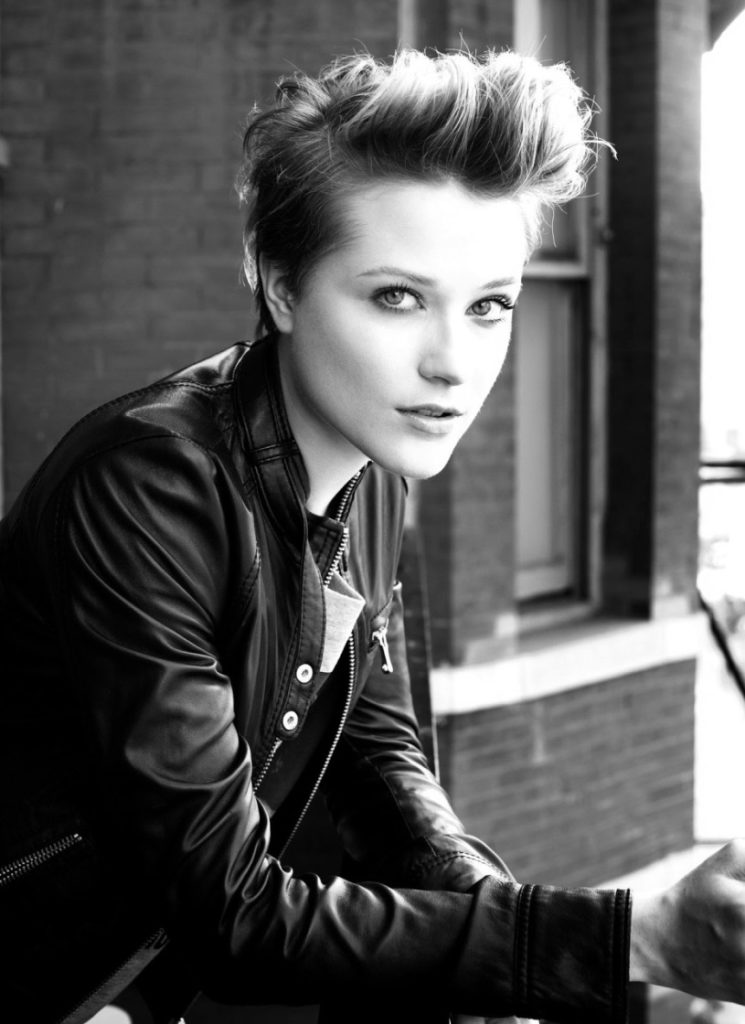 5.Slick Back Tomboy Hairstyle
Slicking back your hair results in a neat and collected look that is excellent. For this reason, for anyone who values their neatness and likes to portray a nicely put-together character, this is the recommended hairstyle.
It features a pompadour that is slicked back using pomade, gel, or hairspray. The hair at the sides, as well as the hair at the back of the head, is shorter as compared to that on top of the head.
The hairstyle is elegant and amazing. You can wear this hairdo for all kinds of occasions because it is very flexible.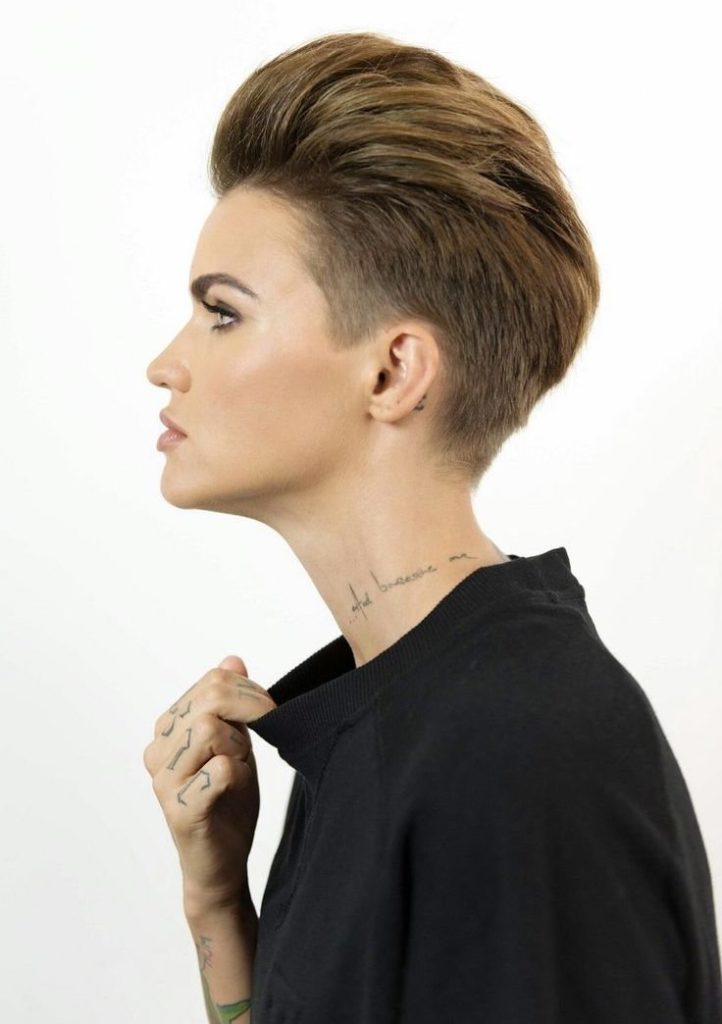 6.Shaved Sides Pixie Cut
This hairstyle brings in a perfect twist since it is a blend of shaved sides and a pixie haircut. Pixie haircuts are becoming increasingly famous among women.
This hairstyle is edgy, full of a carefree attitude, and is very casual. For all the casual events you will be attending, this hairdo will be perfect.
The hair at the top of the head is longer than at the back and it is brushed going forward and the hair at the front is combed outward. You can also dye the color using lighter shades to makes things interesting.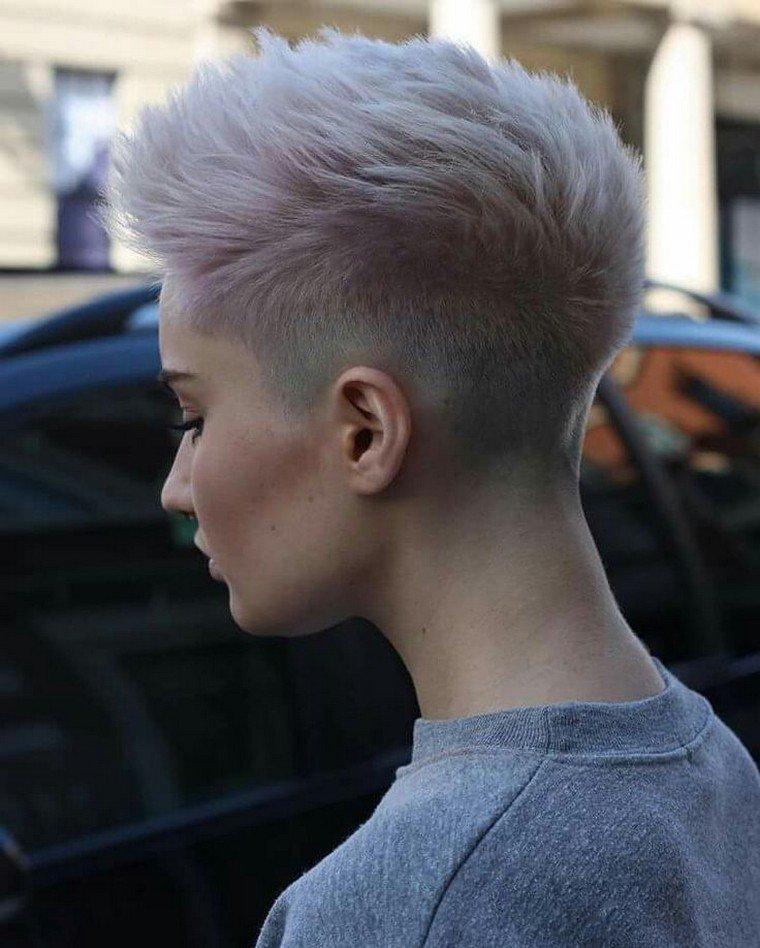 7.Tucked Tomboy Cut
This tucked Tomboy short hairstyle has been a favorite of many and gives a very neat, classy look.
This is a very feminine iteration of the boyish haircut. The crop is side-parted and the sides are tucked behind the ear. The face looks feminine even in short hair.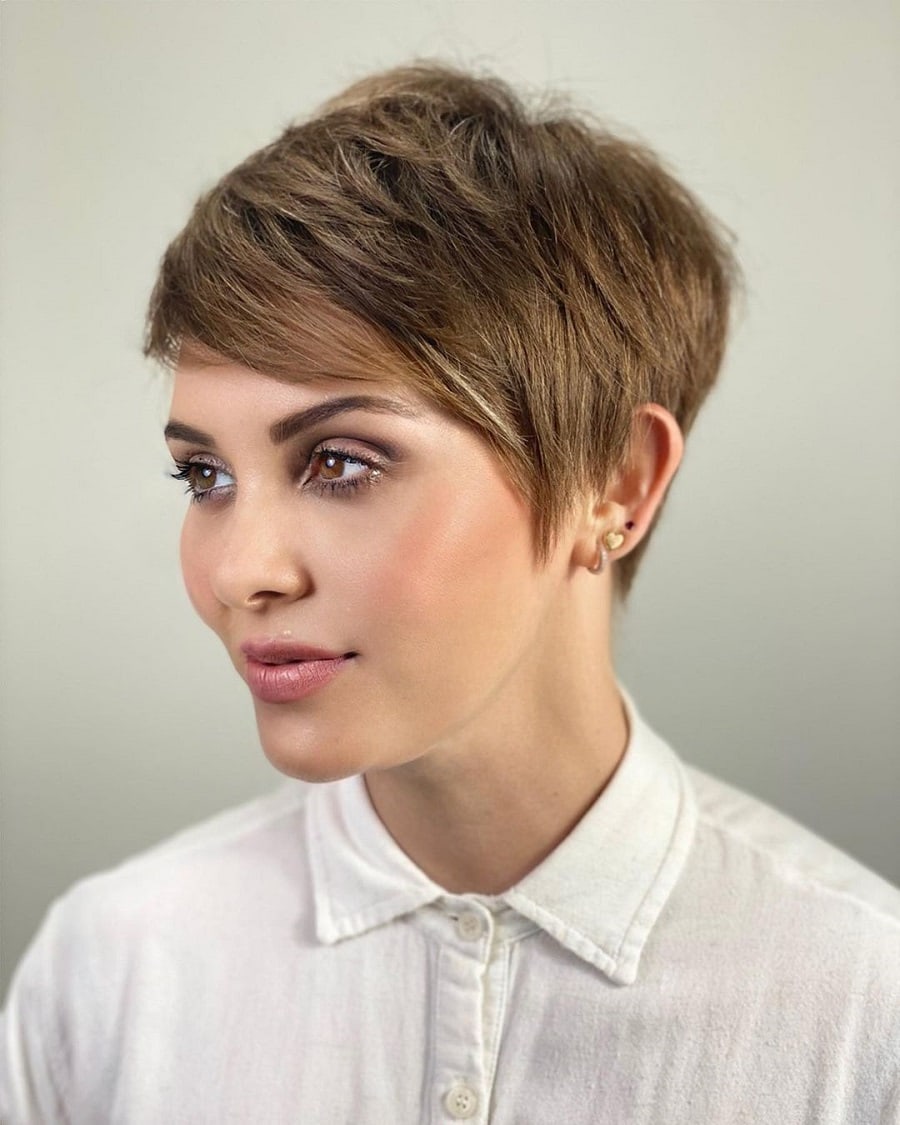 8.High Top Fade
The high-top fade is as classic as any haircut can get. And, yet, it is also one of the freshest tomboy hairdos for you.
For women, the hair at the temples should be clipped shorter and softer so that the proportion of the forehead is maintained.
9.Long Undercut
Another classic haircut, the long undercut with the edgy spin of adding highlights to the hair is the trend of the season.
This looks fun and classy at the same time. To maintain this street-style hairstyle, keep the hair at the top longer to tie a ponytail.
10.Casual Black Pixie Style
If this is the first time you will go for a pixie cut, this jet black style is a fashion-forward yet safe choice. The light texture in this short hairstyle gives it a casual flair.
You can even wear this pixie cut to your workplace for a fuss-free look. All you have to do is shampoo your hair well for the style to be perfect.
11.Colorful Pixie
For all the girls and women who are drawn to vivid colors, you will love this three-toned pixie headband style.
The electric blue catches your eye predominantly, while the Fuschia pink and subtle violet hues on either side of the hair add to the edgy feel.
11.Caramel Side-Part
Channel your inner dark academia aesthetic with this caramel brown short tomboy hairstyle and thin-rimmed glasses.
You can quickly achieve the slicked-down side-parting with a minimal amount of hair gel or mousse. This pixie cut is great for all tweens and teens as well.
12.Strawberry Blonde Pixie
When the winter season sets in, you can turn to a strawberry blonde cropped hairdo.
The strawberry blonde helps create a delicate, feminine charm and brings out the natural blush of your pale skin. Also, you can observe the tousled bangs covering the forehead for a voluminous look.
13.Neon Green Short Hair
Make all the heads turn with this neon green short pixie hairdo. The strong spiky texture makes this a girl-boss hairstyle.
With the help of the right mix of hairstyling products, you can achieve the spikes with minimal effort. You can play around and wear hoop earrings to add drama to the look.
14.Bleached Blonde Pixie
Embrace the androgynous world of short hairstyles with this bleached blonde pixie cut. Hair pomade or wax will create an interesting slicked-down texture on the undercut. This bleached pixie has a clean and refreshing look, making it ideal for the humid summer.
15.Teal Blue Tone
This cropped cut with a distinct side parting is a great hairstyle to maintain the tomboy aesthetic. The teal blue tone of the side part strand stands out against the rest of the natural black color. If you wear glasses, this hairdo would also work well.
16.Mushroom Cut
This new take on the mushroom cut is a fabulous choice for those always up for fun experimentation. The micro bangs across the forehead give the style an edgy vibe. It's interesting to observe the choppy layers for an enhanced texture.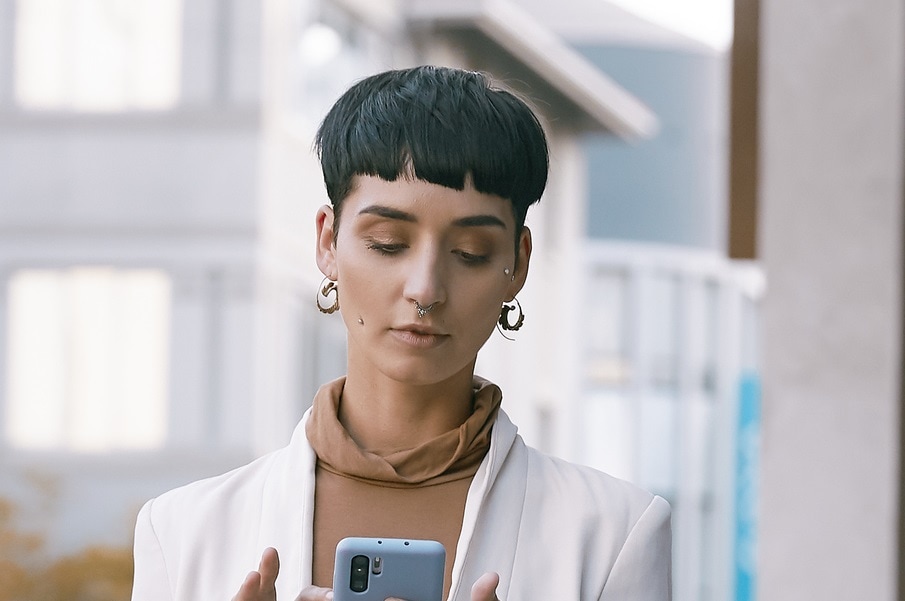 17.Bleached Mohawk Undercut
The best way to flaunt your bleached blonde hair is a mohawk undercut. You can use a holding spray to ensure that the mohawk stays up.
This tomboy short hairstyle aptly creates a rocker-chic look without going too over the top.
18.Feathered Cut
If you love the color blue, this feathered sky blue pixie is the hairstyle for you. The volume-heavy top makes a surreal effect ideal for themed parties and events. This full bangs hairdo also has a flattering face-framing effect.
19.Silver Short Hairstyle
This hairstyle is simple, easy to maintain, straight, and elegant. It has a perfect shine to it that makes it attractive and flawless. The sides and the back are shorted as compared to the hair at the top of the head.
The hair color is very daring. This is the perfect hairstyle for playing around with color and silver color is a winner. This hairstyle is perfect for anyone with a rectangular face.
20.Dye-Dip Flipped
A flipped boyish haircut with a bright hue like platinum blonde is bound to make you stand out in a good way. This regular boyish cut is given an interesting twist by flipping it to the sides in a neat manner. Use hair gel to keep your hair stay put.
21.Relaxed Pixie Cropped
A relaxed pixie cropped haircut is cute, simple, and very easy to manage. If you want to minimize the damage to your hair, this relaxed natural short hair is best for you. It looks clean and fun.
22.Buzz Cut
Buzzcut is all about how confidently you carry it. It is closer to shaving but without taking all your hair off. For tropical weather, this is the ideal haircut when dealing with long hair strands is just too much. The haircut is breezy, stylish, and fun.
23.Piecey Fringe with Undercut
How about a cute pixie cut with bangs? And to update the whole traditional roundness, you add an undercut to make it even more interesting.
The feathered texture of the cut gives it an edgy look. It requires zero hair products and less effort to style.
24.short Round Bowl Haircut
This haircut is interesting. The bowl haircut will cause you to stand out from everyone else. This look is neat and perfectly slicked on all sides. It gives a clear definition of how your face looks like because it does occupy much of your facial area.
The fringe accentuates the shape of your face. Its length, as well as that of the hair to the sides and back, is perfect and you will not have to worry about hair irritating your neck. The red highlights make the hairstyle fun.
25.Funky Tomboy Hairstyle
This funky tomboy haircut has a lot of personality and attitude to it. It is a haircut that will be perfect for casual and fun events. It shows a carefree spirit that is adventurous and easy.
The length of the hair is perfect for achieving that rough finish that makes it seem like a spiky look.
For you to get this perfect hairstyle, your hair has to be dense and with great volume. Hair thickness will greatly contribute to beauty and charm.
26.Blonde Tomboy Hairstyle
If you are deeper in touch with your masculine side, this is the perfect tomboy haircut for you. it is very short and is very simple. It has nothing special to it yet its beauty is striking.
It's a perfect haircut for a person who wants that subtle look that is easy to maintain. It also has a messy touch which makes it more interesting.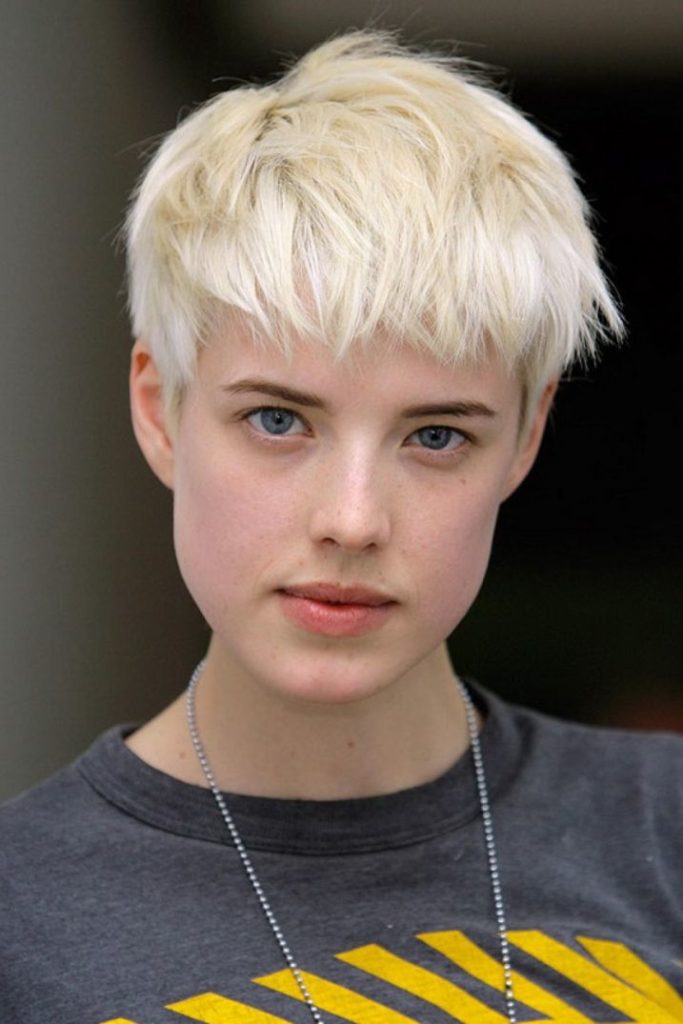 27.Tomboy Hairstyle with Curly Hair
Elegance and style are words that are not enough to express how lovely this hairstyle is. It is a tomboy haircut but very chic, sexy, and gorgeous.
Simply cut the hair on the sides and the back to be of the same length; shorter than that at the top of the head. Curl the hair at the top of the head with a curling iron. Sprays it and you are ready t go. It is perfect for all occasions.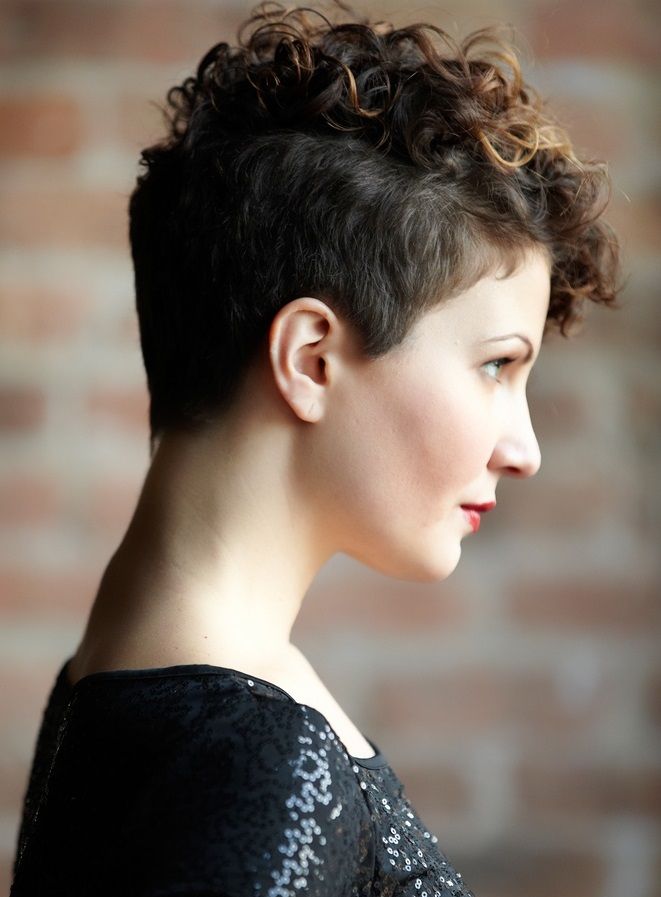 28.Side Part with Comb Over Hairstyle
This haircut is simple, elegant, and very neat. It is the perfect official hairdo for all official functions. Even so, it can also pass for casual functions.
The side parts give a clear definition of the flow of hair to the sides and the back and it makes the hairdo more beautiful.
To get this perfect hairdo for your short hair, simply apply some pomade on the hair and part the hair on the sides but not all the way down, using a comb.
Using a brush, brush the hair on the sides and back. Comb over the hair at the top of the head.
29.Side Part Tomboy Hairstyle
This hairstyle is simple and easy to maintain. It is perfect for all kinds of functions. The side part makes the hairstyle look beautiful and the side-swept fringe makes the hairdo sexy and brilliant.
To create the side part, you will need a comb. Once parted, brush the hair as indicated on the image. This is a mature hairstyle with a great personality.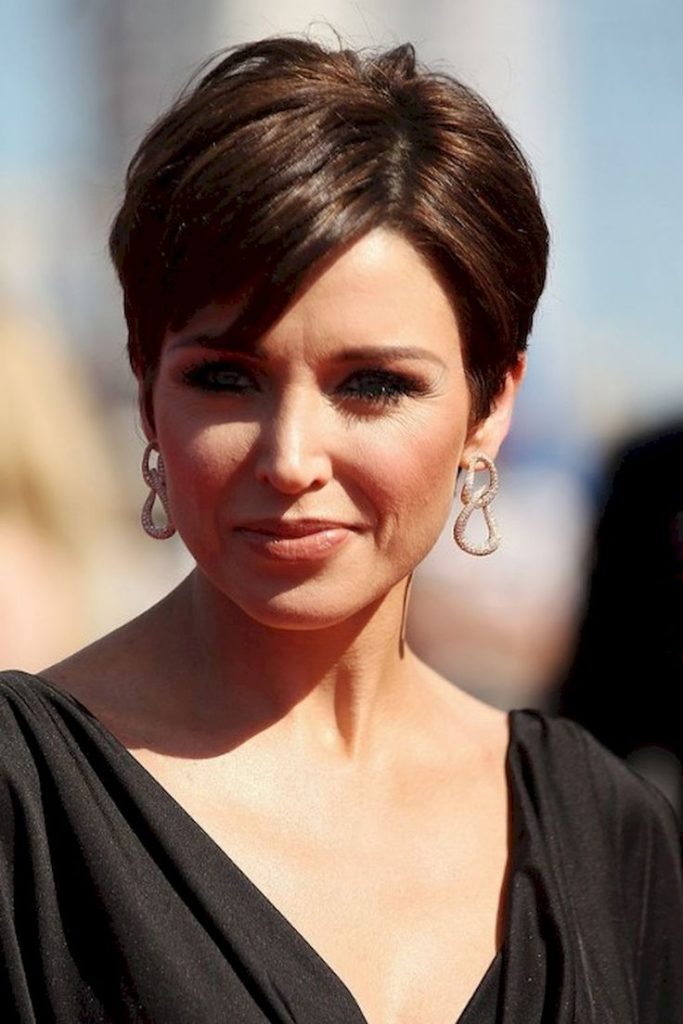 30.Curly Thick Tomboy Hairstyle
This is the perfect tomboy haircut for that stubbornly curly hair. On secret behind this hairdo is that it needs hair with great volume or else it will not look as great.
You can create the curls with a curling iron if your hair is not naturally curly. This hair has a messy touch that is attractive. This hairstyle will work best with brown hair as well.
31.Side Fringe Tomboy Haircut
This hairstyle is exquisite and elegant. It is a winning hairdo for all kinds of functions. It is simple and sexy. The side fringe is lovely and falls excellently on your forehead.
The brown hair accentuates the beauty of the brown eyes. Anyone with a rectangle face can wear this hairstyle. It will also work with different hair colors.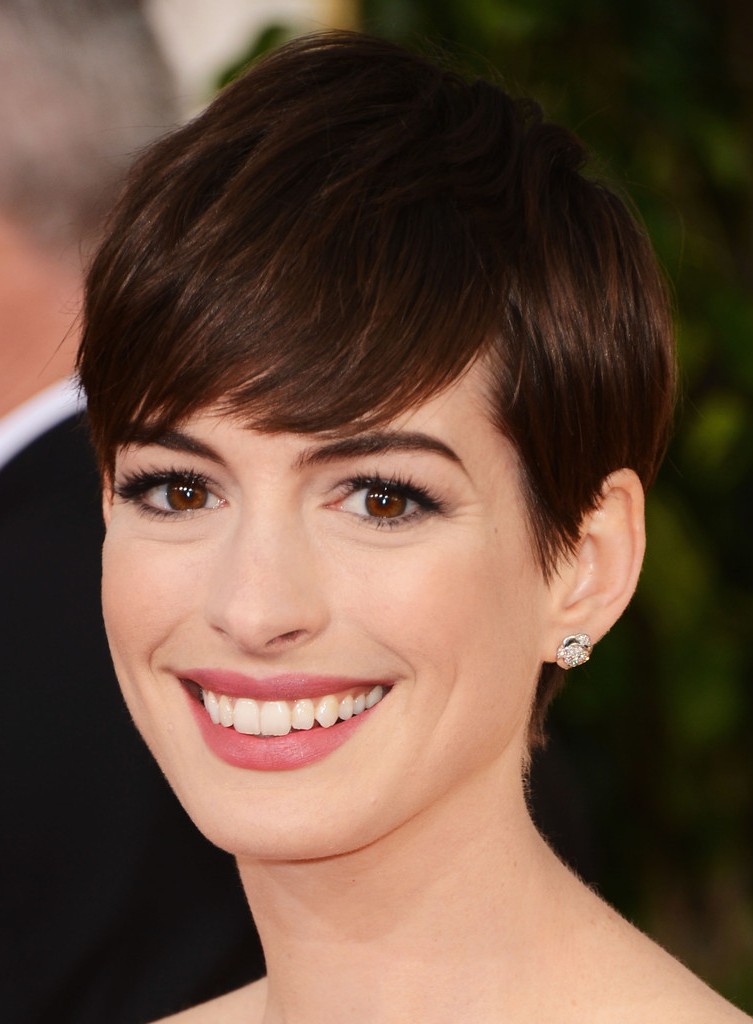 32.Quiff
A quiff is fun with spikes that are out at the front and layered more by using hair products like wax. This parakeet quiff can make you look younger and smarter in all ways. It's fun and needs a little styling to maintain the chic look.
33.Slick Bob
A slick Bob is a regular Bob but styled using your favorite hair gel that you need to run through the front.
You need to brush it smooth and remove any globs until your hair has a very sleek appearance. It's a perfect tomboy short hairstyle for those who don't want hair on their face.
34.Sharp Side Shave With Dye Dip
A sharp side shape is unique. It has drama and fascination that makes it quite a fitting haircut for tomboys. Play with your hair more by dying it half platinum-like you have dipped it in dye. Keeping your hair longer at the sides gives a vibrant contrast.